BRITISH METAL SPINNING
Charabanc's pomander shells are hand spun by a team of highly-skilled specialist Metal Spinners in the manufacturing heart of Britain's West Midlands, who make, amongst other things, fuel tanks for aviation and nose cones for Spitfires.
Metal spinning does not involve removal of material, as in conventional metal turning, but forming (moulding) of sheet material over an existing shape and is particularily suited to forming circular objects. The finished products not only have a distinctive beauty that is highly valued by designers, but also an unmatched functionality prized by engineers.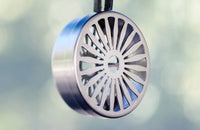 ARTISAN MOULDED LEATHER
Charabanc's leather cap and lanyard are made from the finest Spanish hides, handpicked on our behalf by one of Britain's oldest suppliers of leather and one of only a few still finishing leather by hand. We use vegetable-tanned leather of the highest quality that is natural and sustainable, every piece ageing to develop a patina over time.
Borrowing from an old Tuscan artisan technique and manufactured in our London workshop, the leather lid is hand-shaped on a wooden mould and the lanyard hand-cut and finished, each piece unique.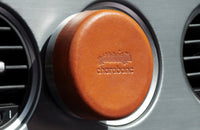 MAGNET FOR THE MOTOR CAR
Our tools and high performing parts are manufactured to the highest industry standards. 

The stainless steel clips have been manufactured at a British Pressings factory from flat sheet metal in a stamping press using a process adopted by automobile manufacturers to make pressed parts since the early C20th. 
The magnet's holding force is as such to keep the pomander securely attached to the A/C.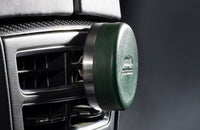 DESIGNED FOR THE AUTOMOBILE
The Charabanc pomander has been thoughtfully designed for the car interior to hang freely, attach to the air vent or rest in the cup holder according to your preferred aesthetic and level of fragrance throw.
TO HANG THE POMANDER
To hang the pomander from the rearview mirror or a clothing hook, thread the leather lanyard evenly through the two slots in the pomander and then through the metal toggle which you can adjust to secure the pomander tightly. Unwrap the fragrance ceramic, place in the pomander and press firmly to close. Place the leather cap on the back of the pomander and hang securely.