BRITISH METAL SPINNING
Hand spun by a team of highly-skilled specialist Metal Spinners in the manufacturing heart of Great Britain who also make fuel tanks for aviation and nose cones for Spitfires.
The distinctive beauty and unmatched functionality of the Charabanc Diffuser is valued by designers and prized by engineers.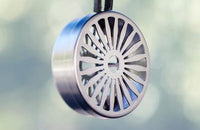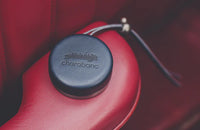 ARTISAN MOULDED LEATHER
Charabanc's leather cap and lanyard are made from the finest Spanish hides, finished by hand by one of Britain's oldest suppliers.
We only use vegetable-tanned leather of the highest quality that is natural and sustainable.
Borrowing from an old Tuscan artisan technique and manufactured in our London studio, the leather cap is hand-shaped on a wooden mould and the lanyard hand-cut and finished.
CLASSIC MOTORING COLOURS
Charabanc leather colours have been inspired by classic motoring colours.
Choose from London Tan, evoking the halcyon days of travel, Racing Green, after Britain's international motor racing colour, the ultimate sporting colour, Signal Red, the timeless classic, Orient Black or Midnight Blue, suggesting night travels to far away places.